On the occasion of World Hepatitis Awareness Day (July 28), let's take a look at the current situation of hepatitis in Vietnam and how we can protect ourselves and our families.
According to WHO statistics at the end of 2015, it is estimated that every year in the world, about 1.45 million people die from hepatitis virus and the number of deaths in the Western Pacific region accounts for nearly 40% of all deaths. Global. This is more than the total number of deaths from HIV/AIDS, tuberculosis and malaria in the region. In Vietnam, the number of people infected with hepatitis B is quite high, with an estimated 8.6 million people infected with hepatitis B virus according to the latest data.
Among adults in Vietnam, 1 in 10 people has hepatitis B. This proves that the hepatitis situation in Vietnam is at an alarming rate. Current data on liver disease: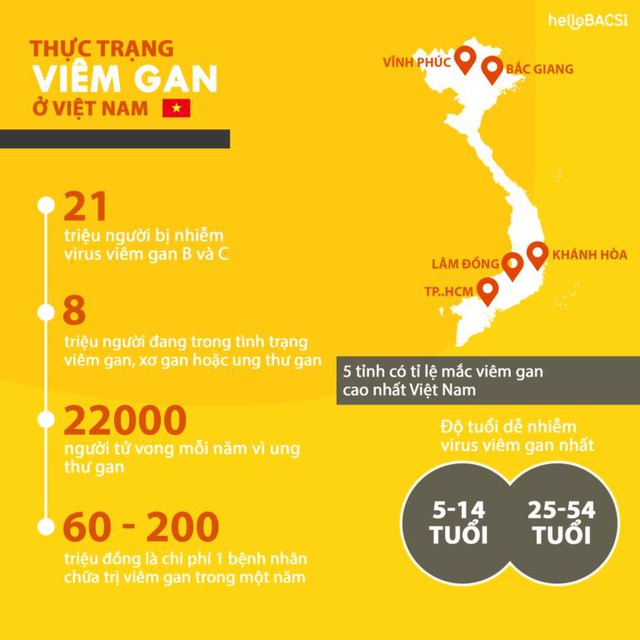 In addition to hepatitis, cirrhosis is also a big concern. According to statistics of the World Health Organization (WHO), Vietnam is a country with a high rate of cirrhosis, accounting for 5% of the population. In which, cirrhosis caused by virus accounts for over 40% and cirrhosis caused by alcohol is about 18%.
Also according to this organization, Vietnam is considered the Southeast Asian country that consumes the largest amount of beer. It is estimated that nearly three-quarters of Vietnamese men drink alcohol and beer, and one in four people use alcohol and beer at harmful levels, equivalent to 6 cups of beer per day.
Statistics from May 2014 of WHO also show that alcohol abuse causes about 3.3 million deaths each year in our country. According to WHO, 71.7% of male deaths from cirrhosis are related to harmful alcohol use.
Are you listening to the lament of your liver?
The liver plays an important role in eliminating toxins, creating blood, secreting bile to digest food and performing over 300 other important tasks.
The liver carries with it such important tasks, but it seems that we have not yet given the liver the proper attention and necessary protection. The evidence is that liver diseases are increasing.
OIC NEW hopes to be a companion to protect your liver!