Succeeded in the information technology market, but Dr. Luu Hai Minh switched to nanotechnology with the product Nano curcumin solution used to support cancer treatment. According to him, the computer market will be saturated sooner or later, and one day foreign businesses will sell computers directly to government projects and bring their products to supermarkets. Meanwhile, the market for products serving human health is always in great demand.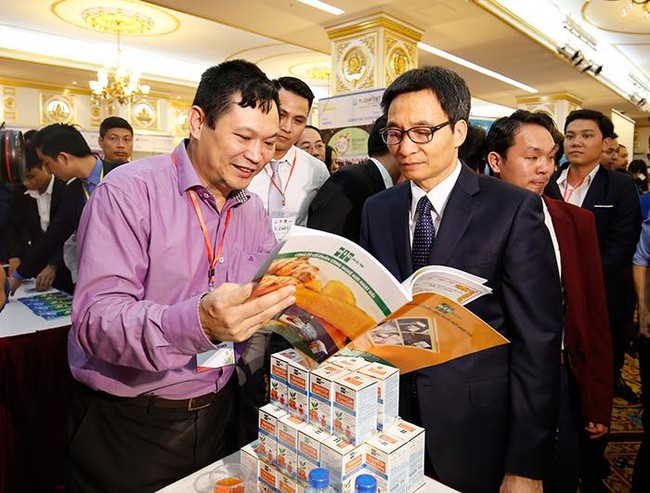 Deputy Prime Minister Vu Duc Dam visits OIC's booth at Techfest 2016. (Photo provided by character)
1.Informatics success
Realizing the trend of society to use IT more than 20 years ago, after graduating from Hanoi University of Transport with a major in auto mechanics, Luu Hai Minh went to study immediately. 2nd degree in IT at Hanoi University of Science and Technology. And since he didn't graduate, with a small amount of capital, he established an IT business, Nhat Hai Co., Ltd (OIC) with headquarters at Ly Nam De – Hanoi's computer street.
With the support of a number of major partners in the field of IT product distribution, OIC has dominated the retail market of computers and informatics equipment. Then, when the Internet market opened in 1997, OIC became a Senior partner for Cisco – USA. In addition, OIC has also developed the market for software solutions and has provided full hardware for a number of hospitals such as Institute 5, Institute 9 of the Ministry of Defense.
OIC also participates in the software outsourcing market for foreign countries and also develops online games. OIC's products and solutions also won the Sao Khue Award of the Vietnam Software and IT Services Association in 2006 and 2009. In addition, OIC also won the Vietnam Gold Star Award for 5 consecutive years, 2008,2009,2010,2011, 2013. And OIC was honored to receive the Certificate of Merit from the Prime Minister in 2010 and the Third Class Labor Medal awarded by the President in 2012 for outstanding achievements in the IT field.
However, Dr. Luu Hai Minh soon realized the fact that one day, foreign partners will sell their computer products directly to state IT projects and through other channels. professional distribution such as electronics supermarkets. He realized this when he hadn't even studied for a doctorate in economics. Moreover, if you work forever in IT, you are just distributing products without your own technology. Therefore, in 2009, OIC decided to leave the IT market to move into a new field of nanotechnology. What OIC is proud of after breaking up the IT market is that there have been up to 30 IT businesses born from its own staff and every time we meet again, everyone does not forget to review old memories.
2.Step into nanotechnology
Earning a decent amount of capital, in 2009 OIC entered the nanotechnology market. Immediately after entering this market, OIC was invited by a number of localities, typically Quang Ninh. Not only receiving preferential policies, Quang Ninh province even provided capital to OIC to do high technology. However, the reality was not as expected because although it was funded, the procedure was too cumbersome and took a long time.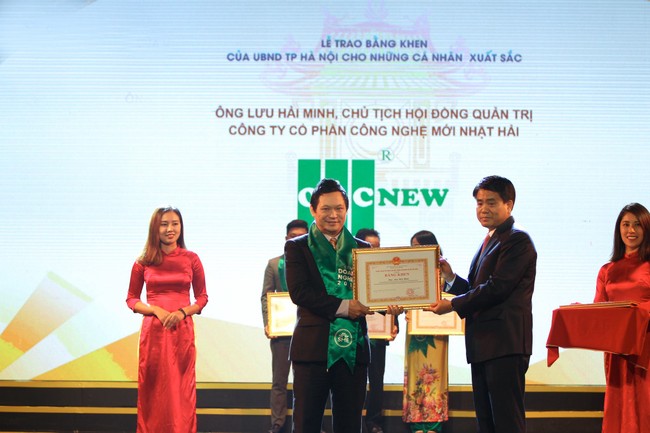 Dr. Luu Hai Minh received an excellent individual certificate of merit from the Hanoi People's Committee. (Photo provided by the character)
Dr. Luu Hai Minh said, OIC participates in nanotechnology ;with 3 fields of nano metal, nano agriculture and nano natural compounds. Nano metal is often used as an antibacterial paint, but because of safety issues so he has not done it. As for agricultural nano, he did it with shrimp shells to use as fertilizer. This technology is provided by a Japanese partner. However, due to not being able to apply for a license in Vietnam, OIC has not been able to start production.
And so OIC was left with only one option, which is nano natural compounds with specific products Nano curcumin in liquid form, a kind of product that supports cancer treatment letters. OIC has been granted Patent Patent No. 16095 by the National Office of Intellectual Property for this product in 2016. The remaining problem is that it needs to be certified by the Ministry of Science and Technology for a science and technology enterprise to receive it. these state preferences. This is so difficult that only one day before his retirement in 2016, Minister Nguyen Quan officially signed the pen.
With the market of nano curcumin currently not only OIC do. And if you do the same as other units, OIC cannot succeed because it is a powder and when mixed with water will hydrolyze some substances. Therefore, OIC aims for its product to keep the molecular structure of curcumin up to 98% pure with spherical nanoparticles so that the product is completely soluble in water.
Not a professional experts in biochemistry, of course, Dr. Luu Hai Minh must cooperate with experts. They are very enthusiastic in research and transfer work. But when it was put into production, that cooperation could not be maintained as expected. The reason is that domestic scientists still seem to be more absorbed in scientific research with budget capital than in bringing products to serve social needs.
What about the machinery for manufacturing products, how did OIC? Here, the mechanical engineering degree of Dr Luu Hai Minh has taken effect. He himself designed and assembled a machine line to refine nano curcumin in liquid form based on products and components imported from abroad. Fortunately, only on the second test, his machine line was satisfactory.
Dr. Luu Hai Minh said, during nearly 7 years from 2009 to 2016, OIC only burned money to research and test products. And each time it takes a lot of money to test whether a product meets the set requirements or not at agencies with enough specialized state machinery.
Currently, the product nano curcumin liquid form of OIC is produced at the line located at Truong Tho Pharmaceutical Company with GMP WHO in Nam Dinh with a capacity of 20,000 – 30,000 products/year. Products have been sold in Vietnam in 30 provinces and cities and have been present in some countries such as Japan, Poland, Germany and the US.
OIC's ambition is to continue making nanotechnology products with about 20/100 other natural compounds. This is a right investment direction when human health is increasingly the top issue of society. However, Dr. Luu Hai Minh also said that his product is not a miracle with cancer, but only a support for treatment. And OIC's nano curcumin solution only has the effect of supporting treatment with cancer of the digestive system, not with other types of cancer.
Finally, to the question, what advice do you have for young people to jump into the market of science and technology enterprises? Dr. Luu Hai Minh said: "The most important thing is not to give up. In order to own and develop your product, "burning money" is understandable, but you must "light the fire".